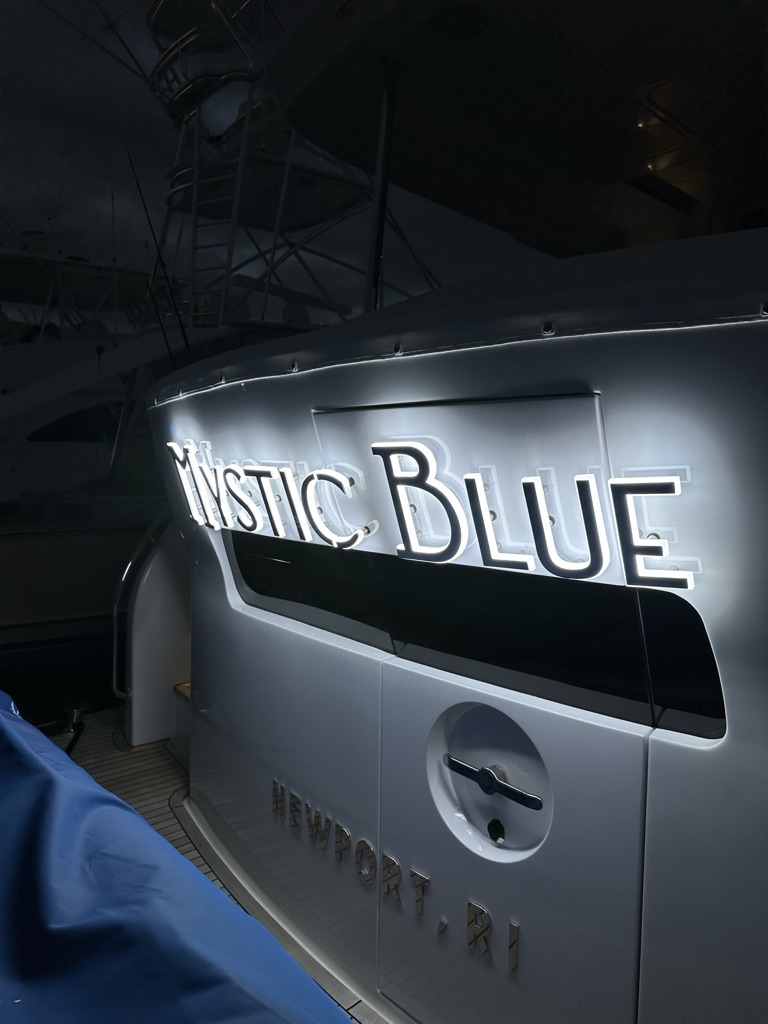 Single Color Lighting
Single color lighting is great if you want a simple lighting option and to show off your favorite color. This type of lighting is more vivid for whichever color you choose than it would be for the same color with RGB lighting.
Type Of Single color lighting Options
Cool White (6000k Brightness)

Warm White (3000k Brightness)

Blue

Red

Green

Pink

Yellow

Turquois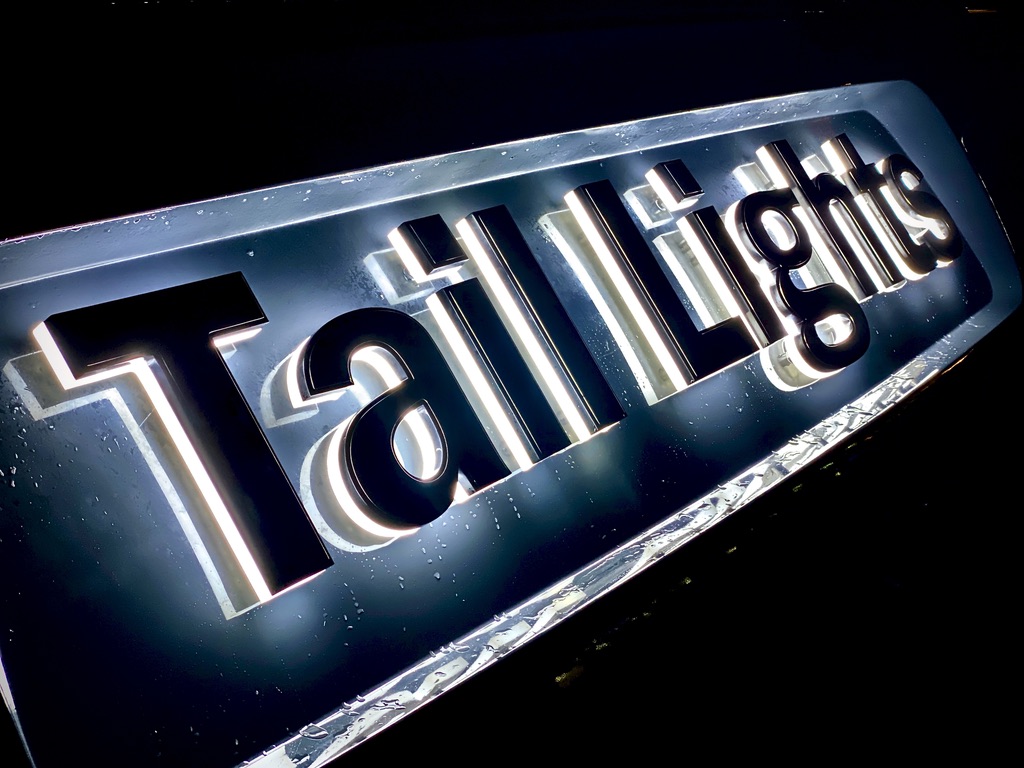 Blue & Cool White Lighting
Blue & white lighting is a dual color lighting option. This is typically only offered in blue & cool white but upon special request we can mix different colors.
Most people choose this option because their underwater lights have the same type of lighting. If you have blue and white underwater lights and want to keep your lighting uniform, this is a great option for you.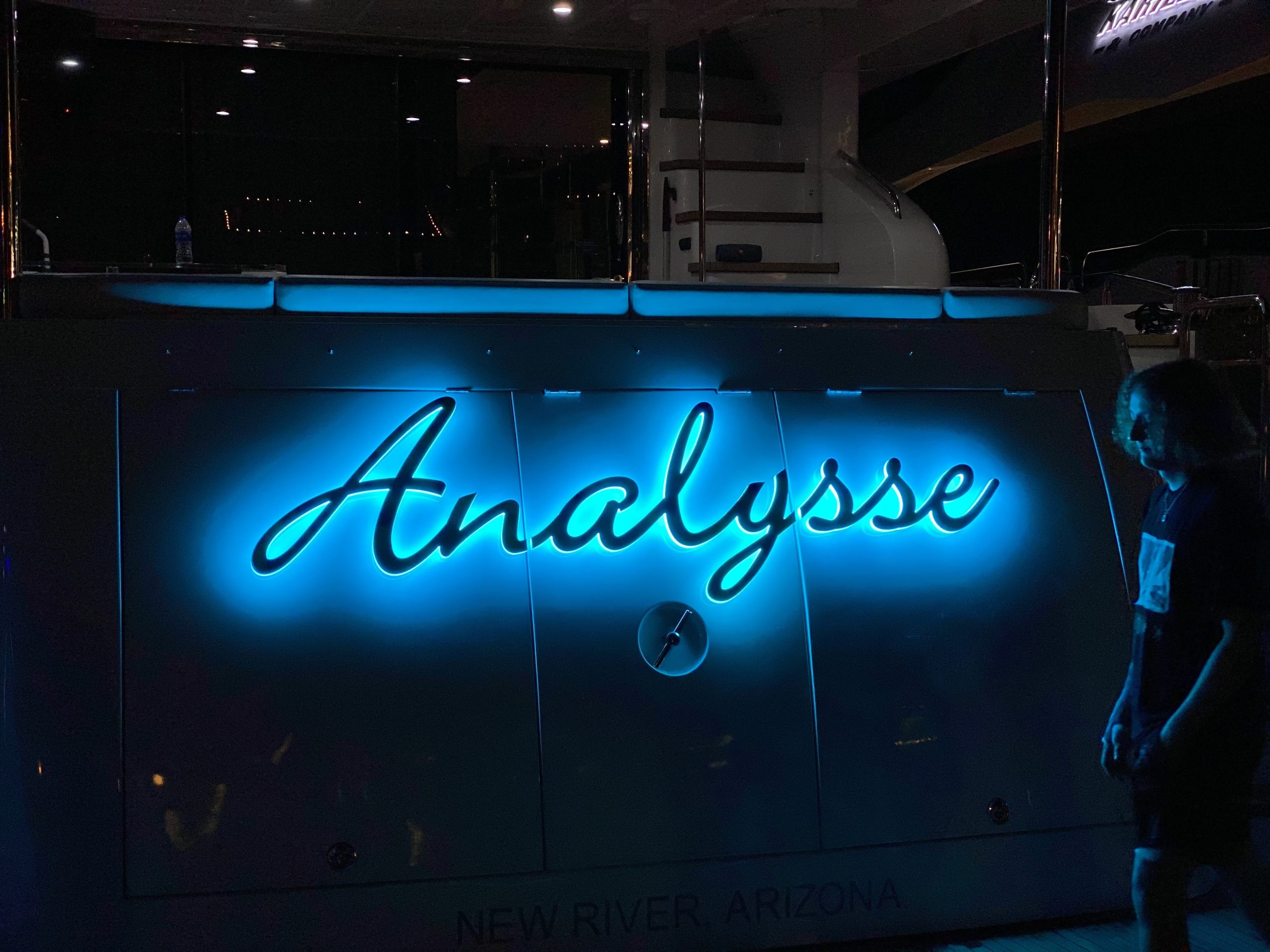 RGB Multi-Color Lighting
Multi-color lighting is great with you want more options than just red, green, and blue. With RGB lighting you have the option to choose unique colors like orange, purple, and yellow.
This comes with the option of a wireless or wall mounted controller that allows you to choose between colors, or a standard lighting show that cycles through all the colors slowly.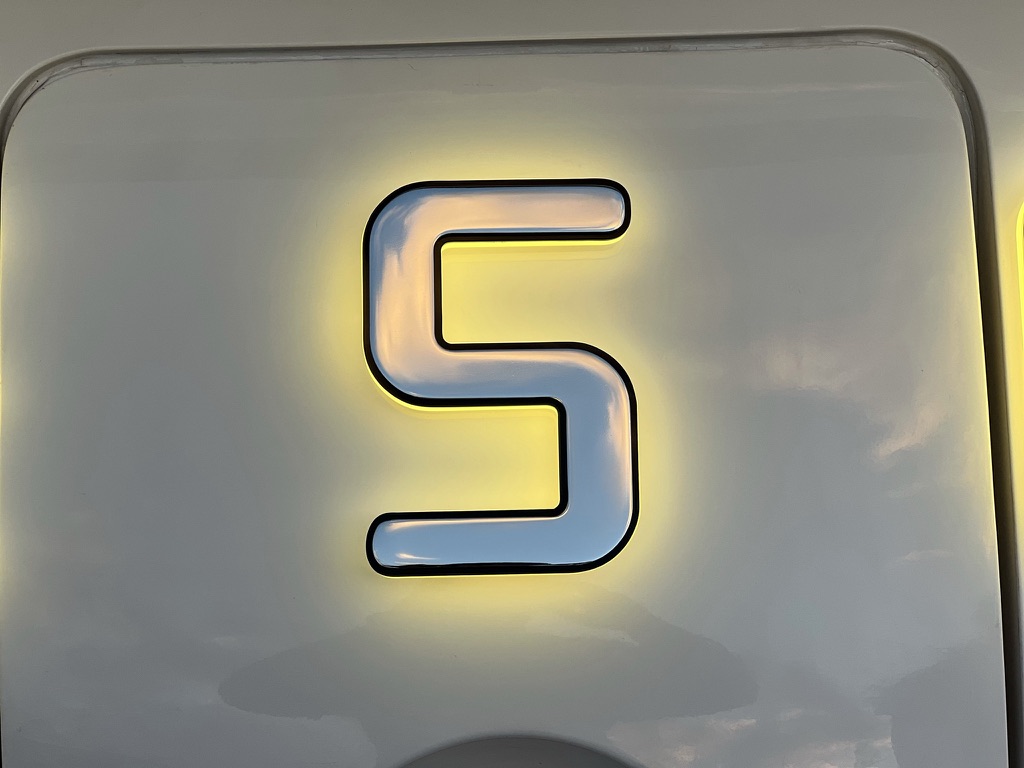 RGB+W Lighting
RGB+W has all the same features as the RGB options with the additonal choice of a warm or cool white option.
The standard RGB multicolor lighting option does not give a choice of white lighting like the RGB+W option. The white lighting is a separate dedicated light source to give it an impeccable glow without interfering with the RGB light source.
This option comes in a 3/4" thick satin layer that will appear as a soft white during the day. This option comes with our standard wireless remote or wall mounted remote.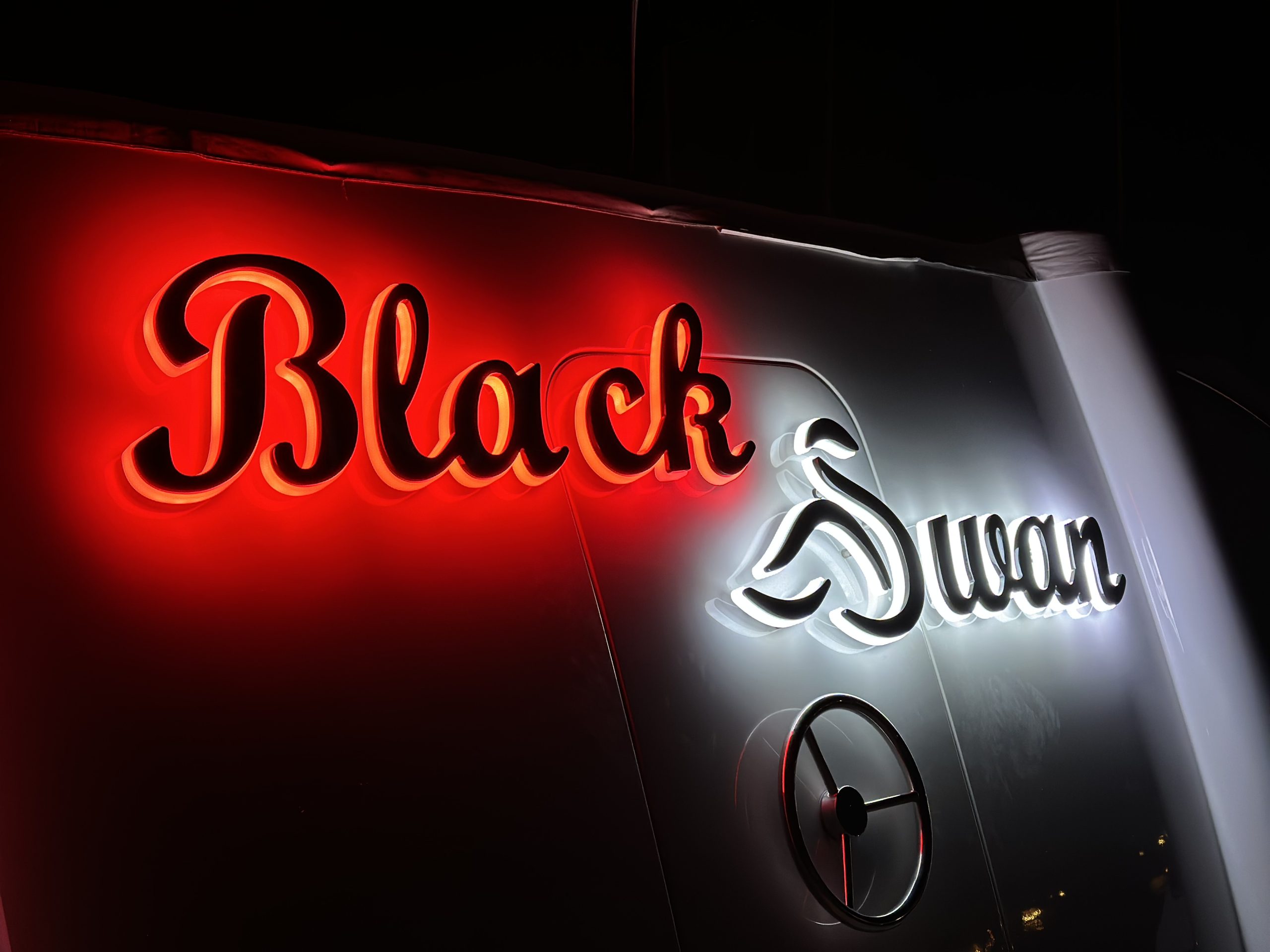 Lighting Show Upgrade
This is a controller that can be added to any color or lighting option. This controller is similar to what somebody would use in a nightclub or home for extreme reliability and functionality.
We custom make every show for each nameboard, each individual letter can turn a different color or can vary in brightness to give it the ability to create a wave effect or any type of lighting show you desire.The options are endless!

This is compatibable with most underwater lights and can be zoned. Most clients choose this option with the multi-color lighting for 3-sided names. All three sides can be synced with the underwater lights with no lag. There's also an option to connect to the yachts internet so whenever you're on the network you can control the lighting.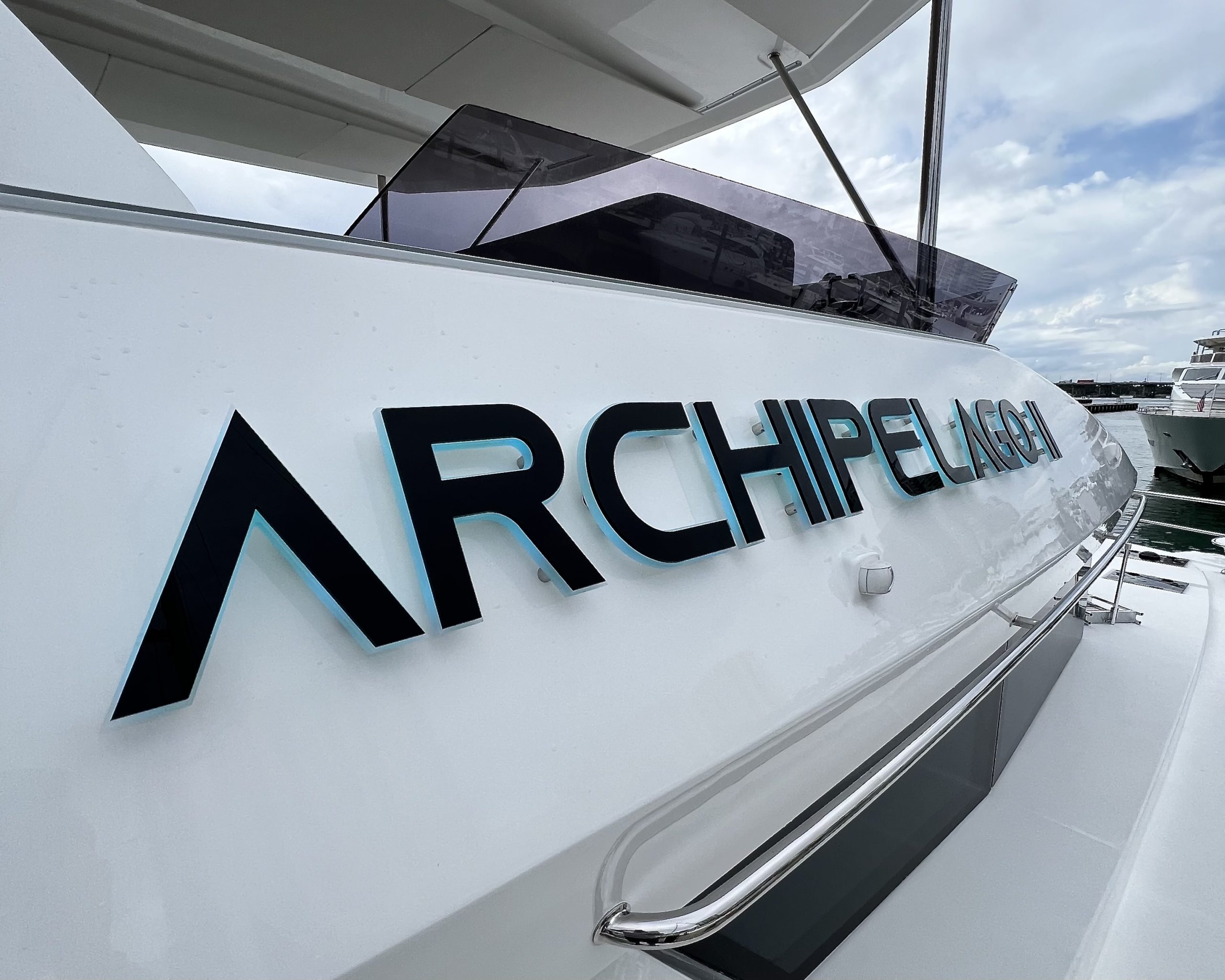 Base Line
Our base-line is a polished lucite that comes in one of 3 colors that are polished but not painted. These colors will be listed below. This option is best if you want to be cost efficient or if you care more about the lighting than the daytime finish.
This option comes with no steel but can be double layered with two different colors. If you want a custom color that is not listed below you have the option to go with a custom paint.
listed Standard Lucite Colors
Black

Grey

White

Saphire blue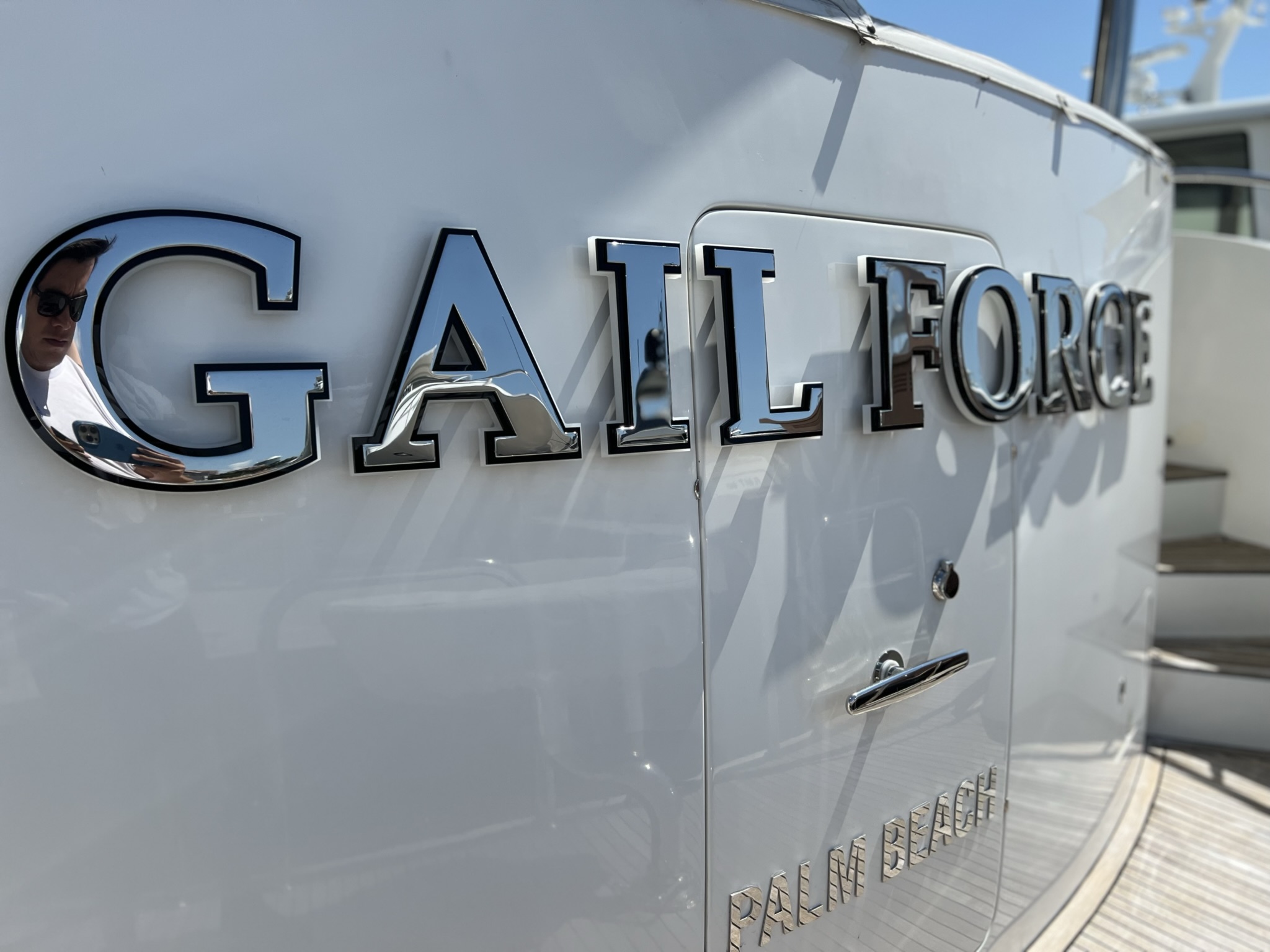 Stainless options
Polished stainless is something that is on every yacht, there fore our stainless option is a classic that looks great on everything. Our stainless steel is marine resistant and extremely durable and looks amazing!
We do have different thickness of steel that veries due to different applications such as curvature, clearances, and preference. Get in touch with us to discuss further.
We hand polish all of our steel in house without outsourcing to insure top quality finish every time.

Custom Painted
Our custom paint option gives you the option to add your favorite color or to color match the name with the color of your yacht.
With a 3 layer clear coat finish to ensure the protection and longevity of the paint for time to come, this gives you the ability to truly make your sign unique and stand out.

If you want to take your name to another level, we can add a 3D bevel or rounded edges. This makes your name look much more distinct due to how the sun hits the painted layer during the day. It really is a showstopper!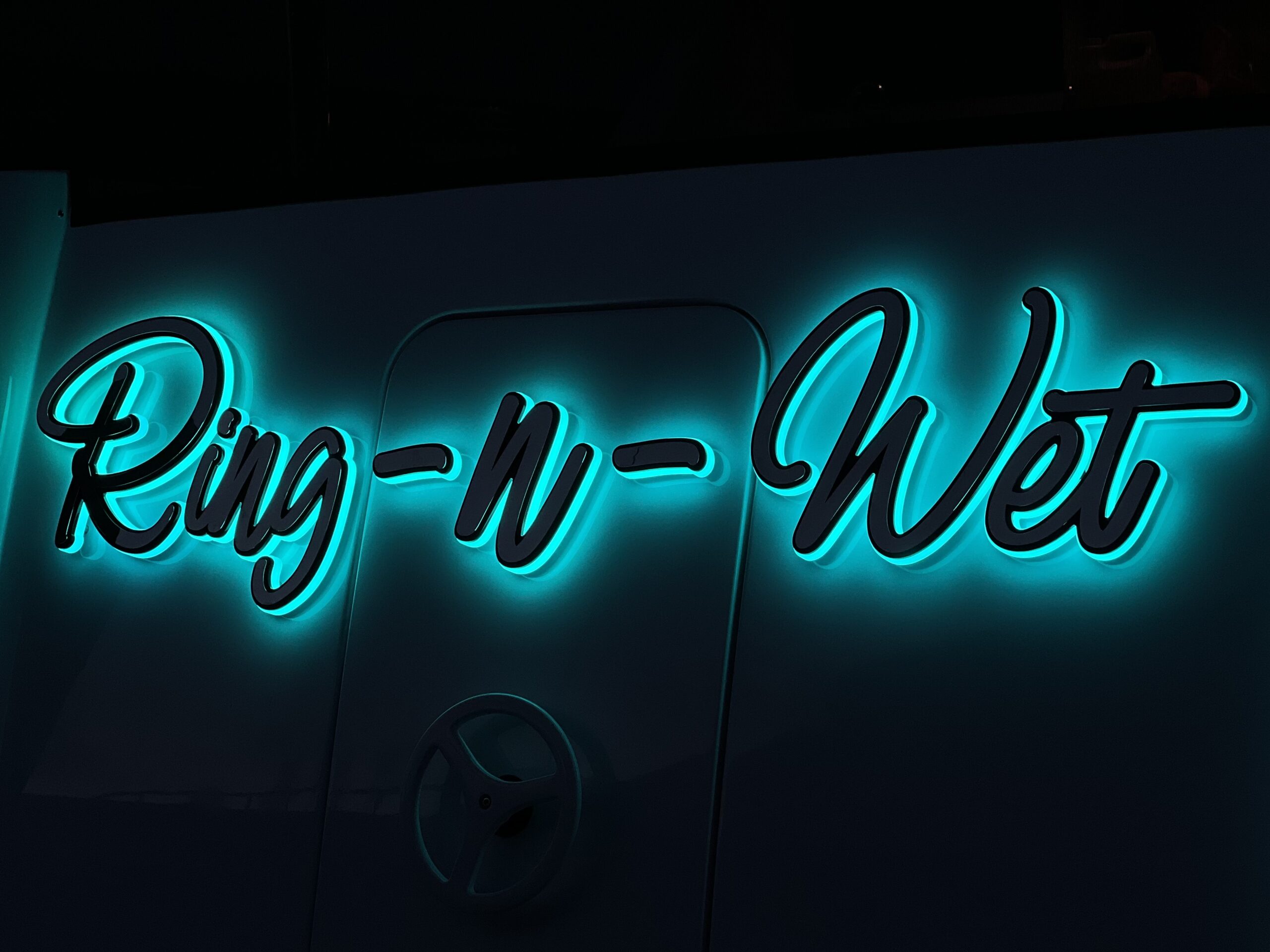 Combination options
What we mean by 'combination' is combining the stainless, painted or stainless coating option to give the lettering a color combintation which makes certain colors look more rich and stand out and not blend in with the yachts exerior paint.
For example, our most popular option is to have a stainless steel face with a black lucite outline layered behind the steel. This creates a dramatic contrast as stainless steel tends to blend in with most yachts extrior paint (White gloss exterior coat).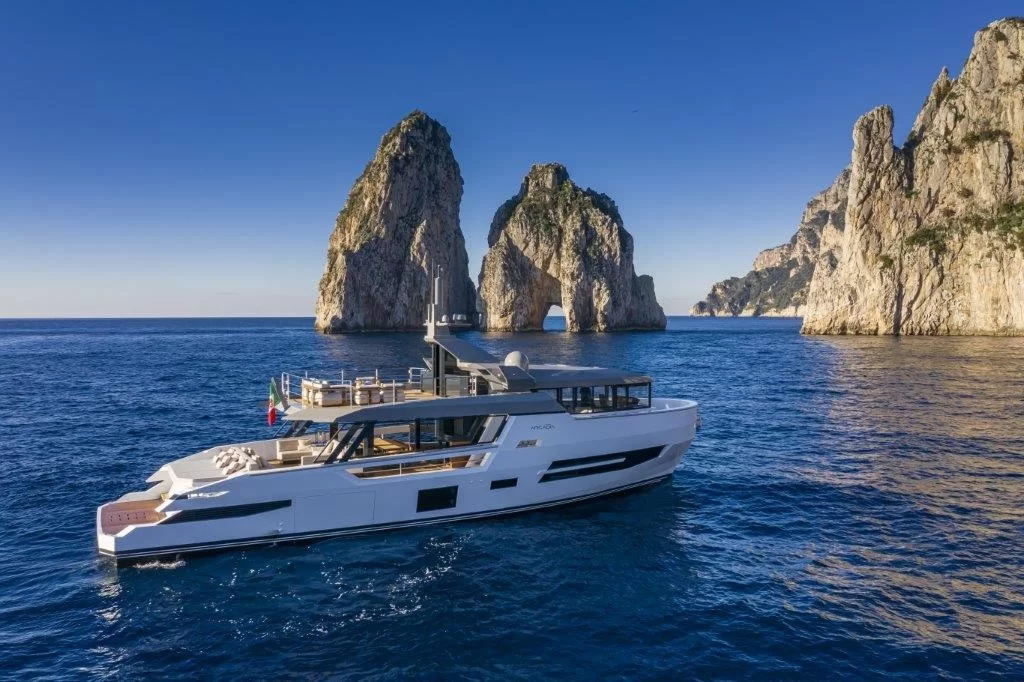 Titanium
Our titanium finish is an aboslute premium option that comes in a few different colors listed below.
This option is a combination of polished stainless steel and titanium. The Titanium is infused with our stainless steel through a process called vapor deposition. This process adds on 4-8 weeks to any project, which makes it a long and expensive process. The end result is absolutely stunning which will last a lifetime because titanium is one of the strongest durable materials in the world.
Types of color options
Black Stainless

Gold

Rose Gold

Sea Green

Copper